I had some time to play around with the new NetQ tool from Cumulus which checks your Cumulus Linux switch fabric.
I did some testing with my Cumulus Layer 2 Fabric example: Ansible Playbook for Cumulus Linux (Layer 2 Fabric)
You need to download the NetQ VM from Cumulus as VMware or VirtualBox template: here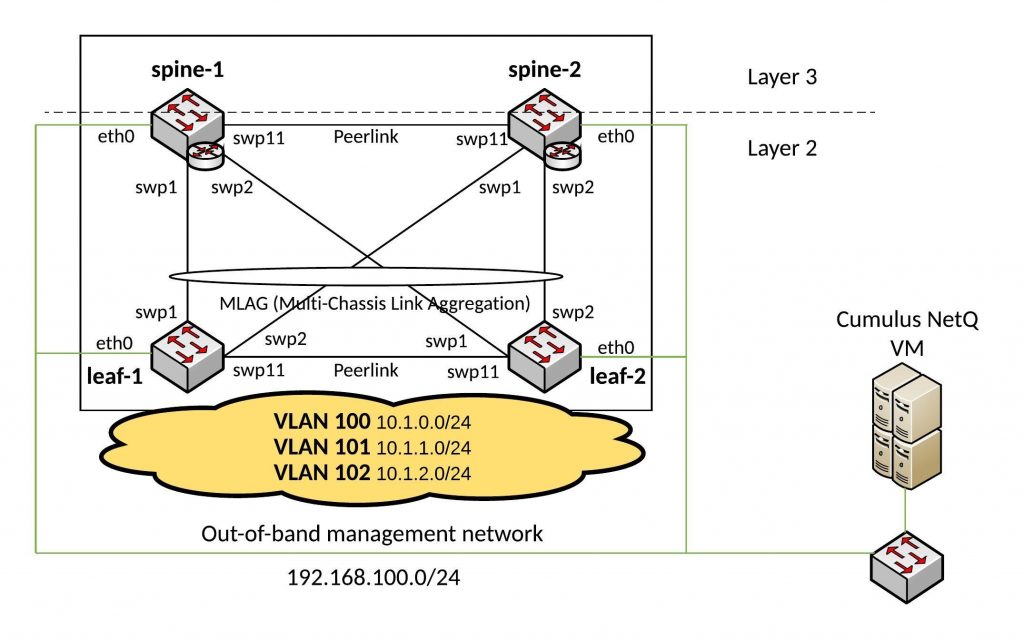 It is a great tool to centrally check your Cumulus switches and keep history about changes in your environment. NetQ can send out notification about changes in your fabric which is nice because you are always up-to-date what is going on in your network.
Installing NetQ agent on a Cumulus Linux Switch:
cumulus@spine-1:~$ sudo apt-get update
cumulus@spine-1:~$ sudo apt-get install cumulus-netq -y

Configuring the NetQ Agent on a switch:
cumulus@spine-1:~$ sudo systemctl restart rsyslog
cumulus@spine-1:~$ netq add server 192.168.100.133
cumulus@spine-1:~$ netq agent restart

I will write a small Ansible script in the next days to automate the agent installation and configuration.
Connect to Cumulus NetQ VM and check agent connectivity
admin@cumulus:~$ netq-shell

Welcome to Cumulus (R) NetQ Command Line Interface
TIP: Type `netq help` to get started.

netq@dc9163c7044e:/$ netq show agents
Node     Status    Sys Uptime    Agent Uptime
-------  --------  ------------  --------------
leaf-1   Fresh     1h ago        1h ago
leaf-2   Fresh     1h ago        1h ago
spine-1  Fresh     1h ago        1h ago
spine-2  Fresh     1h ago        1h ago
netq@dc9163c7044e:/$

Basic Show Commands:
netq@dc9163c7044e:/$ netq show clag
Matching CLAG session records are:
Node             Peer             SysMac            State Backup #Links #Dual Last Changed
---------------- ---------------- ----------------- ----- ------ ------ ----- --------------
leaf-1           leaf-2(P)        44:38:39:ff:40:93 up    up     1      1     8m ago
leaf-2(P)        leaf-1           44:38:39:ff:40:93 up    up     1      1     8m ago
spine-1(P)       spine-2          44:38:39:ff:40:94 up    up     1      1     8m ago
spine-2          spine-1(P)       44:38:39:ff:40:94 up    up     1      1     9m ago
netq@dc9163c7044e:/$
 
netq@dc9163c7044e:/$ netq show lldp
LLDP peer info for *:*
Node     Interface    LLDP Peer    Peer Int    Last Changed
-------  -----------  -----------  ----------  --------------
leaf-1   eth0         cumulus      eth0        1h ago
leaf-1   eth0         leaf-2       eth0        1h ago
leaf-1   eth0         spine-1      eth0        1h ago
leaf-1   eth0         spine-2      eth0        1h ago
leaf-1   swp1         spine-1      swp1        1h ago
leaf-1   swp11        leaf-2       swp11       9m ago
leaf-1   swp2         spine-2      swp1        1h ago
leaf-2   eth0         cumulus      eth0        1h ago
leaf-2   eth0         leaf-1       eth0        1h ago
leaf-2   eth0         spine-1      eth0        1h ago
leaf-2   eth0         spine-2      eth0        1h ago
leaf-2   swp1         spine-2      swp2        1h ago
leaf-2   swp11        leaf-1       swp11       8m ago
leaf-2   swp2         spine-1      swp2        1h ago
spine-1  eth0         cumulus      eth0        1h ago
spine-1  eth0         leaf-1       eth0        1h ago
spine-1  eth0         leaf-2       eth0        1h ago
spine-1  eth0         spine-2      eth0        1h ago
spine-1  swp1         leaf-1       swp1        1h ago
spine-1  swp11        spine-2      swp11       1h ago
spine-1  swp2         leaf-2       swp2        8m ago
spine-2  eth0         cumulus      eth0        1h ago
spine-2  eth0         leaf-1       eth0        1h ago
spine-2  eth0         leaf-2       eth0        1h ago
spine-2  eth0         spine-1      eth0        1h ago
spine-2  swp1         leaf-1       swp2        1h ago
spine-2  swp11        spine-1      swp11       1h ago
spine-2  swp2         leaf-2       swp1        8m ago
netq@dc9163c7044e:/$
 
netq@dc9163c7044e:/$ netq show interfaces type bond
Matching interface records are:
Node             Interface        Type     State Details                     Last Changed
---------------- ---------------- -------- ----- --------------------------- --------------
leaf-1           bond1            bond     up    Slave: swp1(spine-1:swp1),  10m ago
                                                 Slave: swp2(spine-2:swp1),
                                                 VLANs:  100-199, PVID: 1,
                                                 Master: bridge, MTU: 1500
leaf-1           peerlink         bond     up    Slave: swp11(leaf-2:swp11), 10m ago
                                                 VLANs: , PVID: 0,
                                                 Master: peerlink, MTU: 1500
leaf-2           bond1            bond     up    Slave: swp1(spine-2:swp2),  10m ago
                                                 Slave: swp2(spine-1:swp2),
                                                 VLANs:  100-199, PVID: 1,
                                                 Master: bridge, MTU: 1500
leaf-2           peerlink         bond     up    Slave: swp11(leaf-1:swp11), 10m ago
                                                 VLANs: , PVID: 0,
                                                 Master: peerlink, MTU: 1500
spine-1          bond1            bond     up    Slave: swp1(leaf-1:swp1),   10m ago
                                                 Slave: swp2(leaf-2:swp2),
                                                 VLANs:  100-199, PVID: 1,
                                                 Master: bridge, MTU: 1500
spine-1          peerlink         bond     up    Slave: swp11(spine-2:swp11) 1h ago
                                                 , VLANs:  100-199,
                                                 PVID: 1, Master: bridge,
                                                 MTU: 1500
spine-2          bond1            bond     up    Slave: swp1(leaf-1:swp2),   10m ago
                                                 Slave: swp2(leaf-2:swp1),
                                                 VLANs:  100-199, PVID: 1,
                                                 Master: bridge, MTU: 1500
spine-2          peerlink         bond     up    Slave: swp11(spine-1:swp11) 1h ago
                                                 , VLANs:  100-199,
                                                 PVID: 1, Master: bridge,
                                                 MTU: 1500
netq@dc9163c7044e:/$
 
netq@dc9163c7044e:/$ netq show ip routes
Matching IP route records are:
Origin Table            IP               Node             Nexthops                   Last Changed
------ ---------------- ---------------- ---------------- -------------------------- ----------------
1      default          169.254.1.0/30   leaf-1           peerlink.4093              11m ago
1      default          169.254.1.0/30   leaf-2           peerlink.4093              11m ago
1      default          169.254.1.0/30   spine-1          peerlink.4094              1h ago
1      default          169.254.1.0/30   spine-2          peerlink.4094              1h ago
1      default          169.254.1.1/32   leaf-1           peerlink.4093              11m ago
1      default          169.254.1.1/32   spine-1          peerlink.4094              1h ago
1      default          169.254.1.2/32   leaf-2           peerlink.4093              11m ago
1      default          169.254.1.2/32   spine-2          peerlink.4094              1h ago
1      default          192.168.100.0/24 leaf-1           eth0                       1h ago
1      default          192.168.100.0/24 leaf-2           eth0                       1h ago
1      default          192.168.100.0/24 spine-1          eth0                       1h ago
1      default          192.168.100.0/24 spine-2          eth0                       1h ago
1      default          192.168.100.205/ spine-1          eth0                       1h ago
                        32
1      default          192.168.100.206/ spine-2          eth0                       1h ago
                        32
1      default          192.168.100.207/ leaf-1           eth0                       1h ago
                        32
1      default          192.168.100.208/ leaf-2           eth0                       1h ago
                        32
0      vrf-prod         0.0.0.0/0        spine-1          Blackhole                  1h ago
0      vrf-prod         0.0.0.0/0        spine-2          Blackhole                  1h ago
1      vrf-prod         10.1.0.0/24      spine-1          bridge.100                 1h ago
1      vrf-prod         10.1.0.0/24      spine-2          bridge.100                 1h ago
1      vrf-prod         10.1.0.252/32    spine-1          bridge.100                 1h ago
1      vrf-prod         10.1.0.253/32    spine-2          bridge.100                 1h ago
1      vrf-prod         10.1.0.254/32    spine-1          bridge.100                 1h ago
1      vrf-prod         10.1.0.254/32    spine-2          bridge.100                 1h ago
1      vrf-prod         10.1.1.0/24      spine-1          bridge.101                 1h ago
1      vrf-prod         10.1.1.0/24      spine-2          bridge.101                 1h ago
1      vrf-prod         10.1.1.252/32    spine-1          bridge.101                 1h ago
1      vrf-prod         10.1.1.253/32    spine-2          bridge.101                 1h ago
1      vrf-prod         10.1.1.254/32    spine-1          bridge.101                 1h ago
1      vrf-prod         10.1.1.254/32    spine-2          bridge.101                 1h ago
1      vrf-prod         10.1.2.0/24      spine-1          bridge.102                 1h ago
1      vrf-prod         10.1.2.0/24      spine-2          bridge.102                 1h ago
1      vrf-prod         10.1.2.252/32    spine-1          bridge.102                 1h ago
1      vrf-prod         10.1.2.253/32    spine-2          bridge.102                 1h ago
1      vrf-prod         10.1.2.254/32    spine-1          bridge.102                 1h ago
1      vrf-prod         10.1.2.254/32    spine-2          bridge.102                 1h ago
netq@dc9163c7044e:/$

See Changes in Switch Fabric:
netq@dc9163c7044e:/$ netq leaf-1 show interfaces type bond
Matching interface records are:
Node             Interface        Type     State Details                     Last Changed
---------------- ---------------- -------- ----- --------------------------- --------------
leaf-1           bond1            bond     up    Slave: swp1(spine-1:swp1),  2s ago
                                                 Slave: swp2(spine-2:swp1),
                                                 VLANs:  100-199, PVID: 1,
                                                 Master: bridge, MTU: 1500
leaf-1           peerlink         bond     up    Slave: swp11(leaf-2:swp11), 21m ago
                                                 VLANs: , PVID: 0,
                                                 Master: peerlink, MTU: 1500
netq@dc9163c7044e:/$
 
cumulus@leaf-1:~$ sudo ifdown bond1
cumulus@leaf-1:~$
 
netq@dc9163c7044e:/$ netq leaf-1 show interfaces type bond
Matching interface records are:
Node             Interface        Type     State Details                     Last Changed
---------------- ---------------- -------- ----- --------------------------- --------------
leaf-1           peerlink         bond     up    Slave: swp11(leaf-2:swp11), 22m ago
                                                 VLANs: , PVID: 0,
                                                 Master: peerlink, MTU: 1500
netq@dc9163c7044e:/$
 
netq@dc9163c7044e:/$ netq leaf-1 show interfaces type bond changes
Matching interface records are:
Node             Interface        Type     State Details                     DbState Last Changed
---------------- ---------------- -------- ----- --------------------------- ------- --------------
leaf-1           bond1            bond     down  VLANs: , PVID: 0,           Del     21s ago
                                                 Master: bridge, MTU: 1500
leaf-1           bond1            bond     down  Slave: swp1(),              Add     21s ago
                                                 Slave: swp2(),
                                                 VLANs:  100-199, PVID: 1,
                                                 Master: bridge, MTU: 1500
leaf-1           bond1            bond     up    Slave: swp1(spine-1:swp1),  Add     1m ago
                                                 Slave: swp2(spine-2:swp1),
                                                 VLANs:  100-199, PVID: 1,
                                                 Master: bridge, MTU: 1500 

More information you can find in the Cumulus NetQ documentation: https://docs.cumulusnetworks.com/display/NETQ/NetQ